La Théorie du Grain de Sable
With this new exhibition, the Maison Autrique renews its links with the imaginary world of "Les Cités Obscures" ("Cities of the Fantastic"). As the recurring decor of The theory of the grain of sand – the latest book by Schuiten and Peeters – Horta's house is the repository of a whole universe in which at times Brussels and Brüsel blend into one. Original plates and silk-screen prints, video projections, mysterious objects, books and images to be found nowhere else ... visitors will have several months to rediscover Schuiten et Peeters' Imaginary House.
The book

Brüsel, 21st July 784. Constant Abeels patiently lists the stones that are mysteriously appearing in different rooms of his apartment. All of them weigh exactly the same: 6793 grams – a prime number... In a neighbouring building a housewife notices that, much to the delight of her children, sand is steadily accumulating in her apartment, whilst nearby, the owner and head chef of the famous brasserie Maurice realizes that he is loosing weight but despite this is not getting thinner...And these strange occurrences are only becoming more pronounced as the days pass. A woman arrives especially from Pâhry to investigate these unusual events: Mary Von Rathen, formerly known as "the leaning child". She soon discovers that most of these occurrences are linked to the recently deceased Gholam Mortiza Khan, a Bugti warrior who had only just arrived in Brüsel to sell jewellery and was unfortunately run over by a tram as he left the Autrique house after an appointment...
In a profusion of exceptionally inventive and rich urban settings, Schuiten and Peeters return with the unique environments of the "Cities of the Fantastic" (Les Cités Obscures) series, producing a captivating story that retains the brilliance of their best albums...
François Schuiten
François Schuiten was born in Brussels on 26 April 1956. At the Institut Saint-Luc's comic strip workshop he met Claude Renard with whom he produced two albums. Then over several years he developed the three-volume "The hollow Grounds" cycle with his brother, Luc,
Since 1980, François Schuiten has worked mainly with Benoît Peeters on "Les Cités Obscures" ("Cities of the Fantastic") series, notably The great Walls of Samaris, Fever in Urbicand, L'Archiviste, The Tower, Brüsel, L'Enfant penchée, L'Ombre d'un homme, The invisible Frontier and La Théorie du Grain de sable (all published in french by Casterman). These albums have been translated into over ten languages and won numerous awards.
Illustrator of innumerable posters, silk-screen prints and postage stamps, François Schuiten has also worked on the graphic concepts for several films and produced set designs of great complexity and sophistication.
In 2002 he was awarded the most prestigious European prize in his field – the "Grand Prix de la ville d'Angoulême" – for his whole body of work.
Benoît Peeters
Benoît Peeters was born in Paris on 28 August 1956. After publishing two novels, he tried his hand at a whole range of literary genres. A Hergé specialist, he published Le monde d'Hergé (The world of Hergé) and Hergé, fils de Tintin (Hergé, son of Tintin). He is also the author of several essays on Hitchcock, Paul Valéry and Nadar.
In 1980, with his childhood friend François Schuiten, he began to work on the "Cités obscures" ("Cities of the Fantastic") project. This series, which now comprises sixteen albums, has met with great success – way beyond the traditional readership of comics.
Benoît Peeters has collaborated with other illustrators, such as Alain Goffin, Anne Baltus and Frédéric Boilet, the photographer Marie-Françoise Plissart, and the filmmaker Raoul Ruiz. He has also made several documentaries and a full-length feature film, Le dernier plan (The last shot).
Together, François Schuiten and Benoît Peeters designed the scenography of Victor Horta's Maison Autrique, which was opened to the public in December 2004.
Infos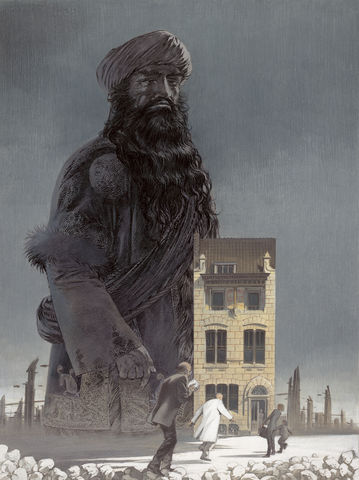 Address
Chaussée de Haecht 266
1030 Schaerbeek
Belgium
Opening hours
RESERVATION MANDATORY
From Wednesday to Sunday,
From 12 to 18 hours
(Last admission at 5:30 pm).
Closed on bank holidays.
Prices
Adults: 7€
Seniors, students, unemployed: 5€
Children, from Schaerbeek: 3€
Article 27: 1,25€
ICOM, Museumpassmusées, Brussels Card : 0€