Brussels by Tram
Brussels by Tram
This exhibition shows Alexandre Obolensky's new work, devoted to the image of the streetcar in todays Brussels.


Alexandre Obolensky
De schilder Alexandre Obolensky is geboren in Brussel op 28 juli 1952. Na zijn studies als illustrator aan Sint-Lucas wordt hij in 1978 aangeworven in de ateliers van De Munt en maakt zich, vooral met Thierry Bosquet, vertrouwd met het decorschilderen.
Hij werkt sinds 1982 als zelfstandige voor theaters, het Ballet van Béjard, van Vlaanderen en van Wallonië, voor de opera zowel in België als in het buitenland, en evenals voor de voornaamste zomerfestivals. Alexandre Obolensky werkt sinds lange tijd samen met François Schuiten aan
scenografische projecten zoals : het metrostation « Hallepoort » in Brussel, Het Internationaal Stripverhaalfestival van Angoulême in 2003, de tentoonstelling « De Trans-Siberian Express » voor Europalia Rusland in 2005, enz....
Infos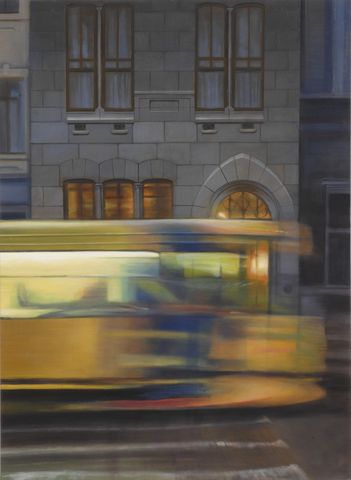 Address
Chaussée de Haecht 266
1030 Schaerbeek
Belgium
Opening hours
RESERVATION MANDATORY
From Wednesday to Sunday,
From 12 to 18 hours
(Last admission at 5:30 pm).
Closed on bank holidays.
Prices
Adults: 7€
Seniors, students, unemployed: 5€
Children, from Schaerbeek: 3€
Article 27: 1,25€
ICOM, Museumpassmusées, Brussels Card : 0€