Le mystère Ghelderode
The Ghelderode mystery
Michel de Ghelderode was as shy, solitary, timid and anguished, as his characters were violent, macabre and disrespectful. But he did not shun friendship and said he liked people – at a distance. He had hardly finished a conversation with a friend than he felt the need, once he was back home, to write to him immediately. His illustrated correspondence with the Brussels artist Jean-Jacques Gaillard – who gave his name to the Fine Arts Academy of St. Gilles – is a good example. On the landing of each floor of the Maison Autrique, a number of these letters are exhibited to the public for the first time. They follow a display in the ground-floor corridor of a series of engravings retouched with red pencil by Jean-Jacques Gaillard, which illustrated Ghelderode's play Sire Halewyn (1934 – Gallimard 1950).
Still on the ground floor, in the old staff dining quarters, costume studies and puppets – the first actors in the play – are a reminder of the importance of popular theatre for the playwright.
In the two bedrooms on the second floor, the collections lent by the Réserve Précieuse of the ULB library and by the Maison des Arts help us to reconstitute the intellectual world of the poet by creating a "little museum of obsessive collecting", and this leads you to the end of the visit, our attic, the final abode of fantasies.

Michel de Ghelderode

Adhémar Martens invented an imaginary biography for himself to escape from the banal existence of the little clerk that he was. In 1918 he published his first texts under the pseudonym "Michel de Ghelderode" (from the name of a Flemish locality) and which he kept throughout his career. The choice of this pseudonym reveals his search for an identity, a genuine attachment to Flanders, and the rejection of his own family background.
At the Schaerbeek local council offices, he was moved from the counter to the attic where all the closed files of Schaerbeek were kept – the dead dossiers. And it was there, not far from his home at 71 rue Lefrancq – anarchistic but not an anarchist, not very sane but not mad – that he wrote all his plays, in an office which might have resembled the one in the Maison Autrique.
Infos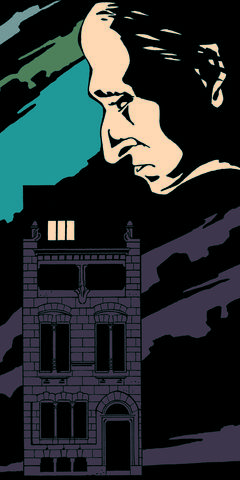 Address
Chaussée de Haecht 266
1030 Schaerbeek
Belgium
Opening hours
RESERVATION MANDATORY
From Wednesday to Sunday,
From 12 to 18 hours
(Last admission at 5:30 pm).
Closed on bank holidays.
Prices
Adults: 7€
Seniors, students, unemployed: 5€
Children, from Schaerbeek: 3€
Article 27: 1,25€
ICOM, Museumpassmusées, Brussels Card : 0€