War & Toy The Belgian toys of 14-18
A toy is a plaything, geared to creation and life. War is exactly the opposite. It is action and movement but decidedly geared to destruction and death.
---
Belgian toys in the period 1914 – 1918


The toys of World War I, produced in Belgium under occupation, represent an important heritage. The country's industry running under capacity, the pillage by the occupier and the systematic rationing of raw materials forced the Belgian people to use cunning and to develop a mutual assistance system. Charitable organisations, such as the "Union patriotique des femmes belges" [Patriotic Union of Belgian Women] which came to the aid initially of the sick and prisoners, distributed food, clothes, provided care, but also gave out toys ("Oeuvre belge du Jouet" [Belgian Toy Charity]) to all needy families. Artists and artisans drew and created toys made of wood, cloth or cardboard-stone for different game and toy factories around the country: Fa-Be-Jo (Fabrique belge de Jouets) [Belgian Toy Factory] and the "Jouet Belge" [Belgian Toy] in Brussels, the "Jouet Liégeois" [Liège Toy] in Liège and Remdéo in Louvain. These three cities played host to these new factories.
The example of war toys is a particular aspect of the exhibition. Amédée Lynen – a painter known for his drawings and paintings of scenes from everyday life – drew many opposing armies before they were reproduced in wood. The visitor can admire Lynen's drawings and the toys made from his models. The "Guerre & Jouet" [War and Toy] exhibition is not, however, limited to toy soldiers. It features a wide array of miniature villages that are exact reproductions of places such as the Dixmude beguinage; decorative elements and figurines in wood (farm, funfair, cart drawn by a horse), dolls, and table games. The Belgian toys in war time are first and foremost peaceful toys that can also take children out of their daily routine for a few moments or a few hours.
"The wooden toys made by the patriotic charitable organisations during the Great War are not easy to find. Interest in old toys is a relatively recent phenomenon, one that has initially focused on toys in sheet metal which are deemed to be more elegant. The major brands then attracted more attention. A market developed where speculation was to have its part."
"Wooden toys remained on the sidelines for a long time, attracting only connoisseurs who were sensitive to their design and their false simplicity. Moreover, those dating from the war are emotionally charged in a particular manner. Finally, behind them were the men that created and designed the plans for the volunteer teams in charge of distributing the work among a workforce consisting of soldiers who were victims of the fighting." (Paul Herman, Les Petits soldats de la Grande Guerre).
In developing a new handicraft toy sector in the country, the Belgians managed to create jobs and to support charitable organisations. In so doing, they cocked a snook at the occupant, taking men away from him and creating a micro-economy supposed to replace the German toy production, which was very efficient before the events.
(c) Rémi Desmots (photos)
Infos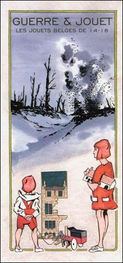 Address
Chaussée de Haecht 266
1030 Schaerbeek
Belgium
Opening hours
RESERVATION MANDATORY
From Wednesday to Sunday,
From 12 to 18 hours
(Last admission at 5:30 pm).
Closed on bank holidays.
Prices
Adults: 7€
Seniors, students, unemployed: 5€
Children, from Schaerbeek: 3€
Article 27: 1,25€
ICOM, Museumpassmusées, Brussels Card : 0€