Edgar P. Jacobs & l'Espadon / Ziller – Juillard
Gilles Ziller and André Juillard display their creations from unforgettable pictures of Blake and Mortimer.
A spectacular evocation of the mood Edgar P. Jacobs has created in The Secret of the Swordfish.
---
With the support of:
Archives Internationales
Éditions Blake et Mortimer / Studio Jacobs
Fondation E.P. Jacobs
Sonuma
la Région de Bruxelles-Capitale
Gilles Ziller & Archives Internationales


The expertise and quality of a manual technique at the service of images and colour
After studies in graphic design, Gilles Ziller taught draughtsmanship at the School of Fine Arts of Nancy and screen printing at the School of Decorative Arts in Paris. At the same time, he produced large-format prints excerpted from comic strip pages. This activity, which has developed on the fringes of the comic strip market, is relatively new.
Gilles Ziller founded the Archives Internationales in 1985 and specialised in this type of luxury auxiliary products. A whole series of ramifications in various forms was based on publication of the screen prints, all designed with a view to a well-defined graphics line: logo, stamp, letter paper, greeting cards, and catalogues.
Gilles Ziller chooses an image for which he feels a purely instinctive attraction. It must be sufficiently colourful; it should offer a good reflection of the cartoonist's universe, and should have high impact when isolated on a wall.
Screen printing is an excellent indicator of personality. With the pen and brush, there is a gestural beauty, a genuine modulation of the graphic characteristics. Screen printing is the ideal technique for reproduction of tinted areas and line drawings. Ziller casually modifies the images that he uses without fearing sacrilege. Transposition work is needed, with new imperatives, those for a wall image that is no longer a panel in a comic book. He sometimes removes some details and adds light and shadows.
Jacobs' images have a strong element of narrative suggestion, a romantic effect. While painting should not be anecdotal, comic strips have this marvellous feature of giving us back this long-neglected narrative dimension.
Ziller was the first to publish a screen-printed edition of E. P. Jacobs. Ziller was already working on the pages of Jacques Tardi when he informed Lombard Editions in Brussels of his fascination with Blake and Mortimer; they were surprised by such an interest. At that time, Jacobs was considered part of the glory of the past. Ziller insisted. A meeting was set up with the forgotten author... in the cafeteria of the Delhaize supermarket in Waterloo! On a winter night, in a supermarket car park, after several coded flashes of headlamps, the two men met for the first time. There was no question of comic strips during this interview, where Edgar P. Jacobs talked only about opera, his real passion. The result was this screen printing of over 25 colour passages excerpted from The Yellow Mark and signed by the author. As an aside, it was Jacques Tardi who drew the attention of the screen printer to this exemplary case of the narrative art of Jacobs.
After this first production in 1980, Gilles Ziller and E.P. Jacobs met regularly until the death of the latter in 1987. Rather reserved and living in seclusion at that time, Jacobs showed interest in the screen-printing work and was always very attentive to the transcription made of his drawings, in regard to both the layout and the colours. A keen Jacobs fan, Ziller acknowledges that the man himself did not disappoint him and that for him he remains the "Great cartoonist".
Authors talk about Jacobs...


Jacques Van Melkebeke "Jacobs and I were two Siamese twins. We were very different, but we knew each other for so long that there were very strong affinities between us; when we listened to each other, we sometimes had the feeling of hearing ourselves talk... [...] I played an important role, but Jacobs was truly the author of Blake and Mortimer; he always had the general idea, for which he drafted a synopsis. My presence came at the time when his storyline was already cast, broadly speaking. I only gave him suggestions and when I gave him a storyboard, he caught the spirit of the situations and dialogues and appropriated them completely." (Benoît Mouchart, A l'ombre de la ligne claire. Jacques Van Melkebeke le clandestin de la BD, Vertige Graphic, 2002)
André Franquin "For me, Edgar P. Jacobs remains the most important author of 'realistic' comic strips that Belgium has known to date. His 'realism' was an extremely original transposition of reality. He is perhaps the only one to have succeeded in creating unforgettable images. And creating unforgettable images is the supreme achievement for all cartoonists. The thing that we all dream of and try to achieve, Jacobs did magnificently." (Tintin no. 13, year 42, March 1987)
François Rivière "Jacobs is an astonishing demiurge. A magical creator. Even more, perhaps, an incomparable originator. He caused numerous people to become fans of mysteries, fantasy and science fiction, it's certain, as well as, in a more restrained way, perhaps, enthusiasts of archaeology, Anglophilia, cybernetics – and we know that we are not exaggerating! The works of Jacobs are in fact more than just adventure novels; it should be admitted that they must be judged and analysed in terms of criteria reserved for literature (and never applied to comic strips)." (À l'ombre de la ligne claire. Jacques Van Melkebeke...,op.cit.)
Philippe Druillet "It's very difficult for young readers today to imagine the influence of Edgar P. Jacobs on the imagination of our generations. With Blake and Mortimer, Jacobs led us on tremendous cultural journeys, and the strength of his narrative oriented lives. Young people decided to become archaeologists after reading The Mystery of the Great Pyramid. At a time when poor people of my sort didn't travel, his imagination transported us to fabulous worlds. At a time when the comic strip was completely despised, he had an enormous influence on readers. I got to know London with The Yellow Mark; if I have read hundreds of works on Atlantis, it is, again, because of him.
Jacobs did wonderful work on the subjects of his comic books. Everything is reproduced with great fastidiousness. I also love his colours. I love these mysterious yellows." (Delirium. Autoportrait, ed. Les Arènes, 2014)
Jean Van Hamme "Among the stories that Tintin was publishing then, we were slightly interested in Corentin and not at all in The Temple of the Sun. No, at school we talked only about this Swordfish, ahead of its time. We wondered what would happen next week. We imagined plot twists that we discussed later, but especially, we hounded our modelling teacher, who was a model maker at Lombard Editions. He was therefore several weeks ahead of us. We bombarded him, we begged him to tell us what happened next. He never gave in." (Jean-Luc Cambier, Eric Verhoest, Blake et Mortimer. Histoire d'un retour, ed. Blake et Mortimer, Dargaud, Paris, 1996)
E.P. Jacobs and The Swordfish


Edgar Pierre Jacobs, born in March 1904 in Brussels, became a comic strip author at 40 years of age. He had previously been an opera singer – a career on which he counted more than any other – a draughtsman for department stores, etc. Before being one of the most prominent personalities of the Journal Tintin, he completed Alex Raymond's Flash Gordon for Bravo! during the Occupation It was again for this journal that he created The U Ray, his first comic strip, in this same fantasy vein. He also took the role of colourist and set artist for Hergé as of 1943. Throughout his career as a comic strip author, Jacobs continued to experiment with different techniques and various styles.
In 1946 the JournalTintin, for which Jacques Van Melkebeke was the first editor in chief, called on his talent as a cartoonist and scriptwriter to create a futuristic series. The other authors having all created historical or fantastic adventures, Jacobs was charged with designing a realistic, contemporary comic strip. He therefore modified the sketches he had prepared as a sequel to The U Ray (Neptunium 332, The Silver Ray) and created the Olrik-Blake-Mortimer trio "under duress"! The Secret of the Swordfish was born and appeared each week on the last page of the journal.
The Swordfish is a submarine plane, a craft capable of confronting the enemy and avoiding his surveillance. Surprisingly for a story intended for children, The Secret of the Swordfish offers readers the point of view of the "bad guys" through the war preparations of the emperor Basam-Damdu. As an almost unique circumstance in the history of comic strip heroes, the young readers first become acquainted with the diabolical Olrik.
This uchronic tale (a branch of science fiction that describes what could have happened if the path of History had taken other directions) was inspired by the tales of Conan Doyle, H.G. Wells and Jules Verne. Like those of Verne, the stories of Jacobs need solid grounding that require substantial work in documentation and production.
His panels teem with details; the décors and colours are contrasting. With Jacobs, the panels sometimes constitute little paintings in themselves. In the same way, his pages are so symmetric that even separately they preserve their harmony and a certain decorative value.
In the area of dialogues and narration, Jacobs, after a little trial and error, incorporated speech balloons (the original edition of The U Ray had none) throughout publication in the journal. In this regard, the imbalance between the beginning and end of The Secret of the Swordfish was such that for its publication as a comic book, the author had to revise the first 18 pages to add speech balloons. Another factor that led to this revision was that Jacques Van Melkebeke inked the pencil drawings for these first 18 pages. The drawing of 'Van Melk', 'Ami Jacques', was so much more stylised than that of Jacobs that the original intentions of the author were changed. So it was also to remove the differences in style that Jacobs redrew the first pages of The Secret of the Swordfish before their publication as a comic book.
The Secret of the Swordfish introduced the adventures of Blake and Mortimer and achieved an immediate success that has continued ever since.
André Juillard & Yves Sente
The Staff of Plutarch
In 2000, André Juillard and Yves Sente launched themselves into the universe of Blake and Mortimer with a first collaboration, The Voronov Plot.
Juillard is the cartoonist of the great saga Les 7 vies de l'Épervier [The Seven Lives of the Sparrowhawk], which gained him entry into the circle of authors of contemporary classic comic books. Among his other major successes, the intimate Cahier bleu [Blue Notebook], thanks to which he won the prize for best comic book at the 1995 Angoulême festival and the Grand Prix the following year, can be cited.
Coming from the world of publishing, Yves Sente became a scriptwriter thanks to the adventures of Blake and Mortimer. He also participated in the series Thorgal and XIII.
Since they have collaborated on the adventures of Blake and Mortimer, Juillard and Sente have taken a wry pleasure in strewing the story with references to the original series, but have also introduced real events and characters or allusions to known works. This has allowed them to respect the author's universe while anchoring the tale in the present, as some technological proposals or situations credible in Jacobs' time no longer necessarily are for 21st-century readers.
What happened before The Secret of the Swordfish? What did Blake and Mortimer do during the Second World War? How did they become acquainted with Olrik? This is told in The Staff of Plutarch, the sixth tale from this duo and the latest comic book, recently published. It all begins in 1942 when a Nazi airplane approaches London. It ends in 1944, barely 90 minutes before the legendary Secret of the Swordfish begins.
(c) Rémi Desmots (photos)
Infos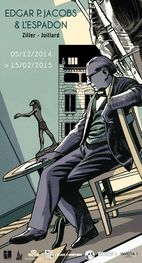 Address
Chaussée de Haecht 266
1030 Schaerbeek
Belgium
Opening hours
RESERVATION MANDATORY
From Wednesday to Sunday,
From 12 to 18 hours
(Last admission at 5:30 pm).
Closed on bank holidays.
Prices
Adults: 7€
Seniors, students, unemployed: 5€
Children, from Schaerbeek: 3€
Article 27: 1,25€
ICOM, Museumpassmusées, Brussels Card : 0€