Le Dernier Pharaon
The Last Pharaoh ~ A Blake and Mortimer adventure

'Why are the stories of E. P. Jacobs so deeply rooted in us? When the images from them come to mind, they make just as strong an impression on us as at first reading and we feel compelled to return to them over and over again, as if we might somehow fathom the secret of their fascination. When we venture into this creative realm, we are embarking on a quest to locate a wellhead that fed the whole of our childhood.
The Palais de Justice [Brussels Courthouse] was an obvious choice of setting from very early on. In one of his notes, Jacobs indicates that he was planning to set a Blake and Mortimer story there. This was the sign we had been waiting for to turn our attentions to this building—one that had long fascinated us. Like the Great Pyramid of Giza, this stone monster has yet to reveal all its secrets. The Mystery of the Great Pyramid was never completely solved. Perhaps The Last Pharaoh will shed new light on this adventure ...'
F. Schuiten
The Brussels-born comic-book author Edgar P. Jacobs published his first 'Blake and Mortimer' adventure in 1946, in the Tintin magazine. This was to be followed, in 1950, by 'The Mystery of the Great Pyramid'. The publishing houses Blake et Mortimer and Dargaud Benelux, who now own the rights to the renowned British heroes, had long envisaged producing a one-off album, separate from the traditional series and emanating from the personal vision of a writer who was themselves an admirer of Jacobs. Their choice fell naturally on another native of Brussels: François Schuiten.
It was Schuiten, along with Benoît Peeters, who spearheaded the revival of the Autrique House and it seemed to us only right that the original artwork for The Last Pharaoh should find a welcome there.
François Schuiten did not tackle the task alone. He enlisted film-maker Jaco Van Dormael and novelist Thomas Gunzig to flesh out the storyboard for this unique Blake and Mortimer adventure and give it its final polish. Laurent Durieux made a gorgeous work as colorist. The Last Pharaoh is neither a homage nor a nostalgic return to the past. Played out between the Giza Plateau and the hills of Brussels, it offers a new slant on the myth created by Edgar P. Jacobs.
Visit the exhibition with you family with the activity book. Available for free at the entrance of the museum or downloadable here : Childrens_Activity_Trail_Last_Pharaoh_EN.pdf
Press release : DernierPharaon_dossierpresseEN.pdf
Thanks to all our sponsors and friends!
More information : https://www.loterie-nationale.be/a-propos-de-nous/subsides
Infos
Date :
2019-05-29
End date :
2020-01-19
Hour :
12:00 to 18:00
Expositions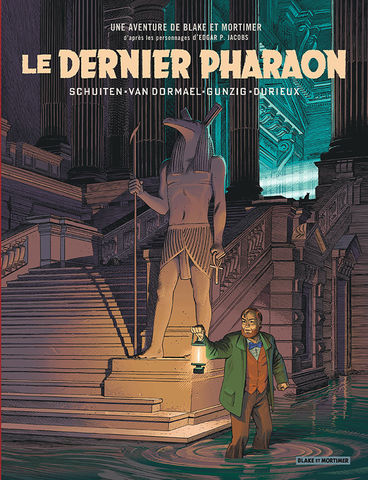 Address
Chaussée de Haecht 266
1030 Schaerbeek
Belgium
Opening hours
RESERVATION MANDATORY
From Wednesday to Sunday,
From 12 to 18 hours
(Last admission at 5:30 pm).
Closed on bank holidays.
Prices
Adults: 7€
Seniors, students, unemployed: 5€
Children, from Schaerbeek: 3€
Article 27: 1,25€
ICOM, Museumpassmusées, Brussels Card : 0€