Horta en amerique
Exiled in the United States during the World War I, Victor Horta and his wife discover the excessiveness of American nature and archtecture. His way of conceiving architectural designs are turned upside-down.
---
Horta In America
World War I spelled a fundamental break in Horta's life. He went to London in 1915 to attend a congress on the future reconstruction of Belgium. A journalist had revealed his presence, however, and it was impossible for him to return to Belgium. He decided to go to the United States. Upon arriving in New York, he was astonished by the skyscrapers. Symptomatically, he shaved off his beard the very next day, and would never sport one again, as if he had turned a page. For four years, he led the life of an itinerant lecturer in the United States: while Julia, his second wife, pleaded the cause of wounded Belgium, Horta spoke of the treasures of old art.
This long stay would bewilder his conceptions. The discovery of American architecture completed his detachment from his first period. As he explained in his Memoirs: "My mind was loosened up. What I would have once opposed as being incompatible with the architect's profession, I have understood since and, from a certain angle, see it even as a desirable example." Horta accepted the principle of cooperation between architects and that of standardisation, convinced of the need to move towards an "intelligent uniformity." He felt that the cost of labour would become increasingly heavier, and that architectural forms had to take due account of that development.
Julia Horta, the odyssey
It was while accompanying her husband, Victor Horta, to London that Julia Horta had the idea of organising some lectures in her native country, Sweden, on the suffering of the Belgian people and their children. Julia turned out to be a fine speaker who won over her audiences. She was thus entrusted by the Belgian government with a charitable mission in the United States. Before she left, wishing to see for herself the reality of the conflict so that she could give a first-hand account of the horrors of the war and life in the trenches, she went to the Belgian and French fronts.
Upon arriving in the United States, Julia Horta founded a charity called "American Aid for Homeless Belgian Children" which generated great enthusiasm. During her war crusade from England to Sweden and from Sweden to the United States, she gave more than 500 lectures, reached 600,000 people, and raised the equivalent of €11 million in today's money. Exhausted, she was checked into a clinic to rest, where she learnt that the war was over.
(c) Rémi Desmots (photos)
Infos
Date :
2017-01-28
End date :
2017-10-01
Hour :
12:00 to 18:00
Expositions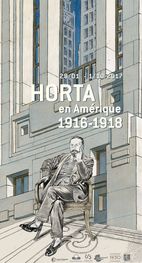 Address
Chaussée de Haecht 266
1030 Schaerbeek
Belgium
Opening hours
RESERVATION MANDATORY
From Wednesday to Sunday,
From 12 to 18 hours
(Last admission at 5:30 pm).
Closed on bank holidays.
Prices
Adults: 7€
Seniors, students, unemployed: 5€
Children, from Schaerbeek: 3€
Article 27: 1,25€
ICOM, Museumpassmusées, Brussels Card : 0€