Hommage à Debussy
Cette année, nous fêtons le centenaire de la mort de ce musicien exceptionnel qu'était Claude Debussy.
Cinq instrumentistes ont décidé de lui rendre un hommage particulier dans un endroit hors du commun.
La flûte, le violoncelle, l'alto, la harpe, et le magnifique piano Pleyel de la maison Autrique feront résonner sa musique dans un décor Art Nouveau dont les motifs rappellent le titre des œuvres, et dont les symboles sont intimement liés à l'univers de Claude Debussy.
Aurélie Ranalli imagine une performance graphique sur cette musique de la suggestion et des émotions impalpables.
Flûte : Sarah Vermeyen
Violoncelle : Tine Van Parijs
Alto : Gergely Kota
Harpe : Aurélie Guerreiro
Piano : Marie-Noëlle bette
Performance graphique : Aurélie Ranalli
Programme :
Syrinx
Sonate pour flûte, alto et harpe
Images pour piano (première série)
Clair de Lune
Sonate pour violoncelle et piano
Chansons de Bilitis (arrangement pour cinq instruments)
Maison Autrique - Chaussée d'Haecht 266 - 1030 Bruxelles
Entrée : 20 euros
Infos & réservations : This email address is being protected from spambots. You need JavaScript enabled to view it.
Infos
Date :
2018-10-16
End date :
2018-10-16
Hour :
20:00 to 21:30
événements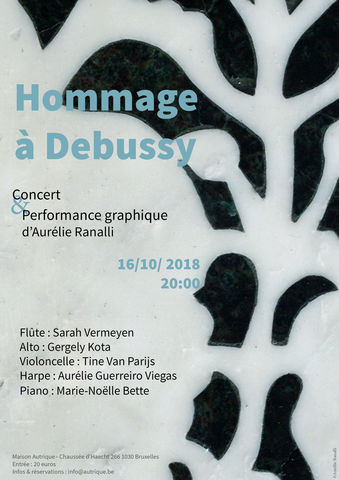 Address
Chaussée de Haecht 266
1030 Schaerbeek
Belgium
Opening hours
RESERVATION MANDATORY
From Wednesday to Sunday,
From 12 to 18 hours
(Last admission at 5:30 pm).
Closed on bank holidays.
Prices
Adults: 7€
Seniors, students, unemployed: 5€
Children, from Schaerbeek: 3€
Article 27: 1,25€
ICOM, Museumpassmusées, Brussels Card : 0€